Tips for places where you can enjoy tasty food while being surrounded by beautiful scenery
Typical Slovak dishes are simple, filling, comforting, homey – and they pair well with beer. To provide high-energy while keeping costs low leans heavily toward potatoes, wheat (dough, bread), sauerkraut and onions, dairy (milk and cheese), poultry and pork, apples and plums. Sheep cheese and dumplings make the basis of many dishes.
If you're heading to Horehronie (Upper Hron River region), sheep milk specialties in this mountainous region is the best thing to try. I've prepared for you a list of places where you can relax, eat good food and buy original products at the foothills of the Low Tatras in the district of Brezno. Whether you're after homemade garlic "podplamenník" (baked bread base with sour cream, red onion, and crispy bacon), mouth-watering mutton meat or traditional halušky (soft potato-dough gnocchi smothered in salty sheep bryndza cheese, and topped with smoked bacon bits).
I will also tell you where the beer tastes the best and why, where to buy cheese directly from the shepherds, or where to find Slovak vegetables and fruits or meat and homemade sausages to put on the grill. In the end, you will know where to dine well in Brezno and what not to miss while at Chopok, as often times it is extraordinary places that are hidden from the sight of tourists.
Therefore, I have compiled this list which will serve you well when exploring the region without leaving you hungry. I chose them for the passion they have for their craft which makes them stand out. Each and every one of these places has a story to tell and with delicious food, your holiday will take on a different dimension. Look no further, and eat like the locals do.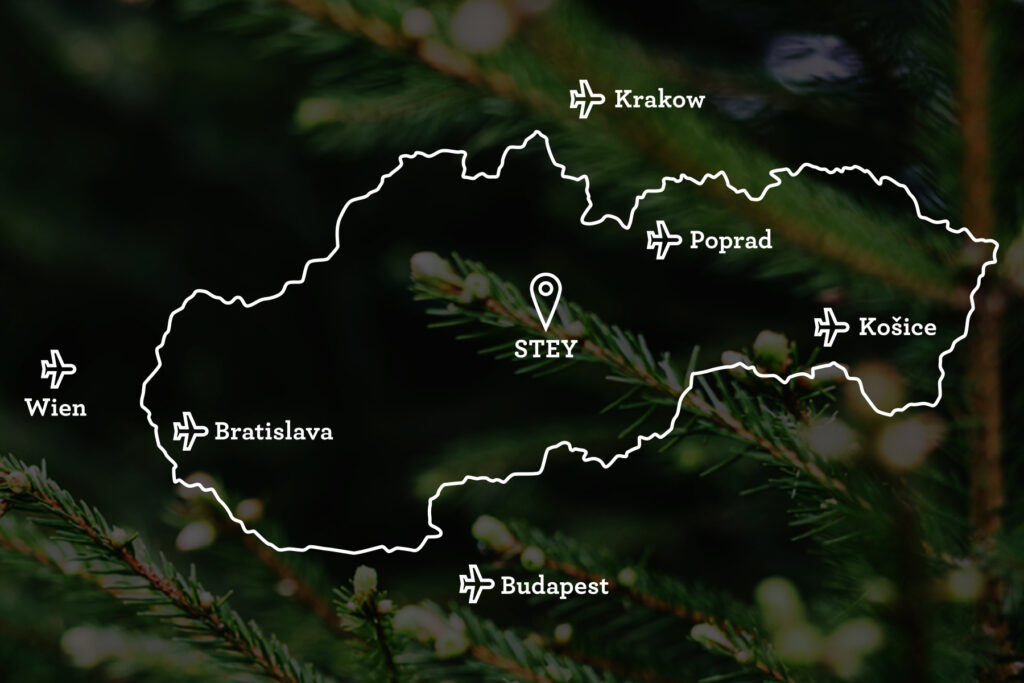 The most delicious home-made food
Halušky [halushki] is a traditional Slovak dish which consists of potato dumplings similar to gnocchi that are made from grated raw potatoes and flour. It is mainly served with bryndza [breendtsa] – a flavorful cheese made from sheep's milk. Bryndza is added directly to halušky and mixed thoroughly until it melts. They are topped with sour cream, spring onion, fried onion and crispy bacon pieces. Another option is to have them mixed with sauerkraut; in that case, they are called strapačky [strapachki], which means they are shaggy.
As this can be highly subjective, we have also used the help of public opinions to make recommendations in this category. The most popular and high-quality halushki and homemade food are recommended by vox populi at Salaš Zbojská and Motorstop Zadné Halny. All tips from the area can be found in one place directly on Google map.
Mutton specialties in chalet Zbojská
Situated on a hillside off the main road from Brezno to Tisovec, Salaš Zbojská, is a charming wooden cottage which serves typical Slovak national food and a must visit for anyone passing through the area. You can choose to sit inside or outside, and enjoy your meal over beautiful scenery. There is also a children's playground. Staff are clothed in traditional Slovak historical clothes called "Kroje" and you'll only hear Slovak folk music. Besides delicious halušky, they are famous for their lamb shank or mutton perkelt (mutton on gravy gnocchi / halusky). I'd recommend taking away some delicious Slovak cheese made locally on site which is also sold at the restaurant alongside milk and a selection of meat.
Zbojská is also an ideal place for walking, hiking or mountain biking (bike rental) if you have time to spare. Tourists can also visit several beautiful natural spots while riding in a horse and carriage. There is a wooden chapel and bell tower across the road on top of a hill that's certainly worth climbing.
In summer months you can take the Horehronský Express, a train from the mid-20th century, which departs every Friday and Saturday from Brezno to Zbojská. Travellers on board can taste sweet steamed dumplings (buchta) while actors perform an entertaining-educational programme on every train.
The Devil's Valley located nearby is a hidden nature reserve often called a small Slovak Paradise as you can also find ladders, with the difference that you do not have to wait for them in line. It is a 2,5 hour hike which includes an educational trail of Jakub Surovec the Brigand and ends by the alpine hut. Another option is to hike to the mountain hut Burda (1h by bike, 2h on foot in one direction). Zdenko and Erika will reward you after with their craft beer and homemade cabbage soup.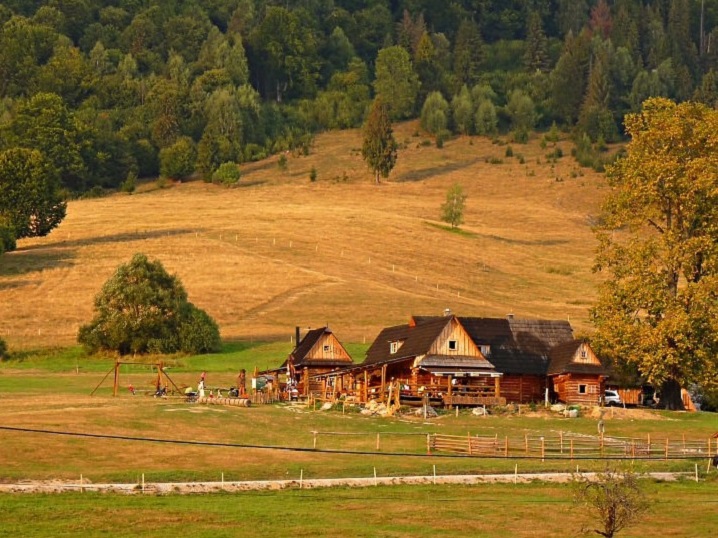 Thirst-quenching beer
Beer is meant to be enjoyed after hiking up a mountain and finally arriving at a chalet serving them cold. Craft beer from Predná hora is served on the Mountain Chalet below Kráľová hoľa. To get there, you need to either walk on foot from Šumiac, or ride an e-bike. This craft beer can also be found at the above-mentioned mountain cottage Burda between Zbojská and Závadka, or directly in Predná Hora freshly brewed with seasonal herbs. If you want to support a project to save the Western capercaillie, you can purchase an unpasteurized special of the Huncút brewery at the cozy Andrejcová hut. They even have regulars, who apparently do not go there for hiking but for the beer.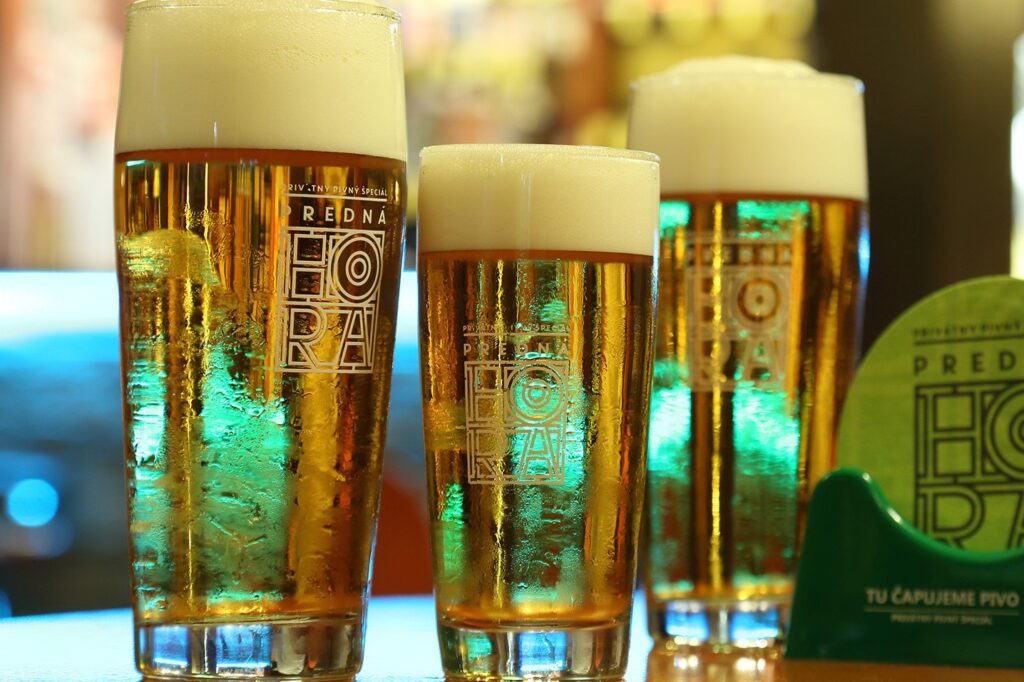 We also have two nomadic breweries under the Low Tatras, in Jasenie and Mýto pod Ďumbierom. Nomadic means that they brew the beer themselves according to their recipes in larger breweries and sell it under their own brand until they have enough investment for their own production. So in the mecca of Low Tatras, Mýto pod Ďumbierom, you can find IPA and classic lager 11 ° in Villa Ďumbierka. They have a cozy terrace where barbecue sausages are served. Ďumbier – Horehronský brewery can be also found in bottles in the Tourist Information Center in Bystrá (in addition, a ton of regional souvenirs, crafts and everything you are looking for during the holiday)
The second hop nomad is from Jasenie. It can be found from Bratislava across Slovakia. Guys brew 10 kinds of beer – ALE, IPA and lager, excellent and refreshing. The Beer Division can be of course found in the town center of Brezno, in the Eagle Bar and in the iconic pub Bombura, which, by the way, is the oldest music club in Slovakia and, by far, the heart of the alternative music scene.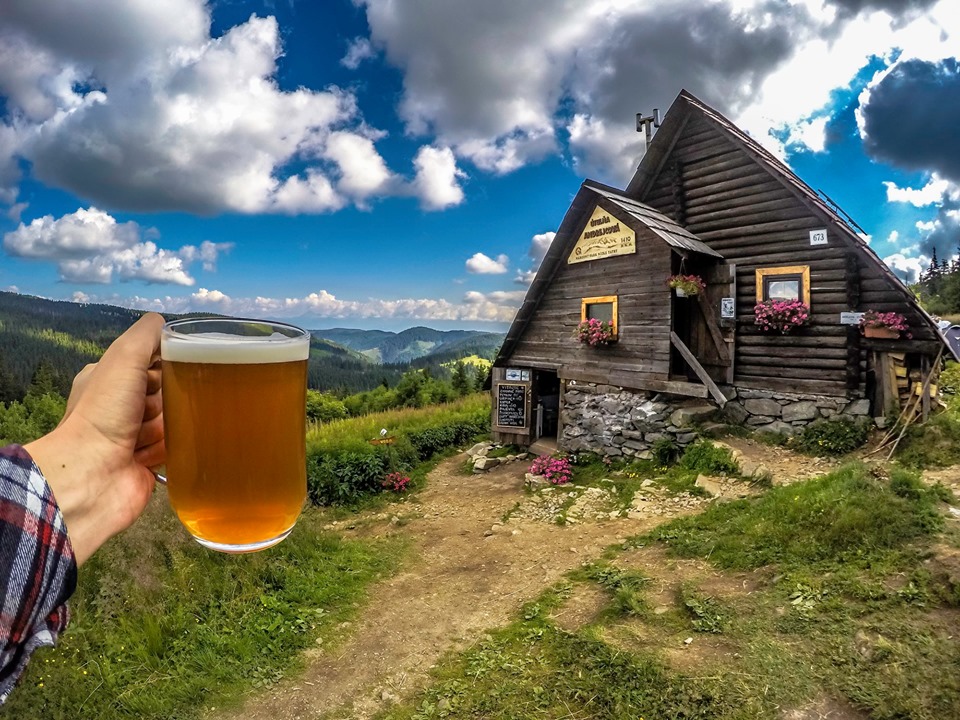 Reward below Chopok
After a good hike in Low Tatras, you can top up your energy levels just below Chopok in Kamenná Chata with steamed dumplings filled with jam and topped with vanilla cream, chocolate sauce and whipped cream. After this calorie bomb you will have enough energy to climb the whole mountain range all the way from Kamienka to Ďumbier and back or to Donovaly.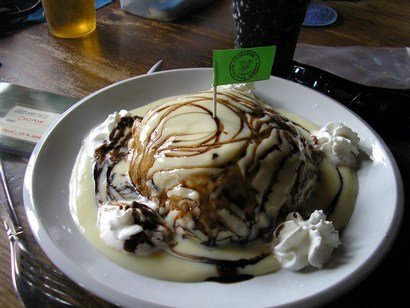 Cheese straight from the shepherds
When it comes to fresh milk, sheep cheese (bryndza), regular or smoked cheese (parenica / korbáčik / oštiepok), or žinčica (a drink made of sheep milk similar to kefir), Pastierska Kolibka in Bystrá sells all these products which the owner Zuzka bought from local farms in Tisovec, Dolná Lehota, Heľpa and surrounding regions. In 8 years, she has chosen to deal only with farms where shepherds take good care of their sheep and adhere to hygiene standards. Since most products are handmade, it mattered to her that the suppliers are people who put their hearts in their work. They make their products in a traditional way, stick to the original recipes, and in no way replace their own hands with technology which results in tasteful and exceptional products. In addition, Pasterska Kolibka offers many other Slovak products like honey, spirits, and lemonades. Sometimes she even bakes homemade bread and makes samples of bryndza on Sunday. There is a small car park across the road, where you can park for free.
Opening hours: July / August every day 10-21, remaining months Mon – Wed 10-18, Thu – Sun 10-21. Address and Map: Bystra 62, 977 01 Bystra.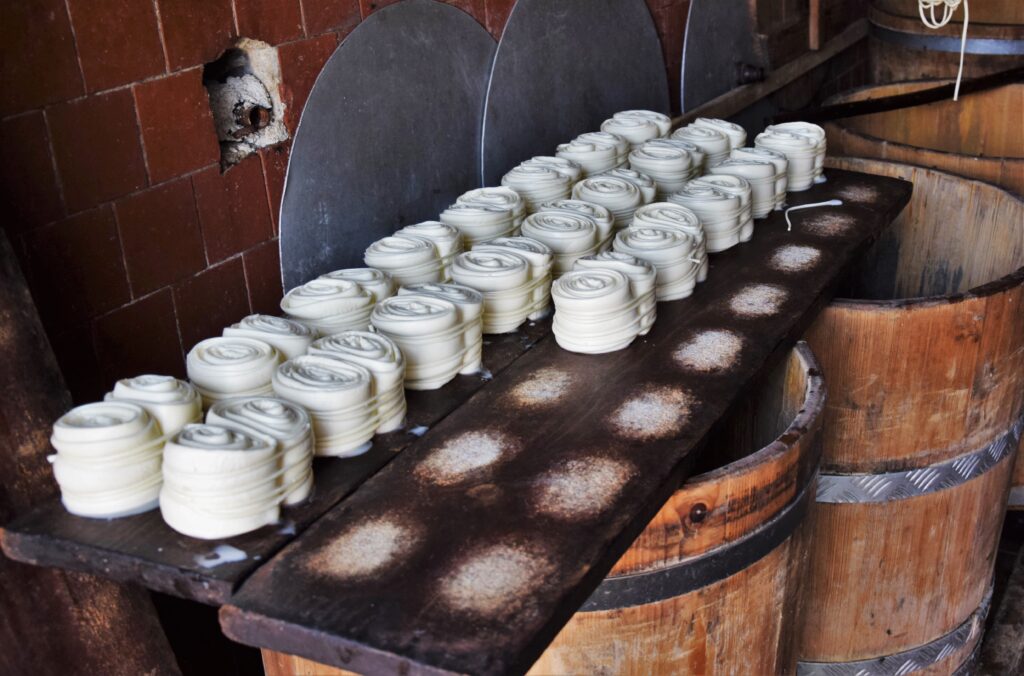 Whenever you shop in supermarkets in or around Brezno, try and find dairy products, milk, yogurt drinks, butter or cottage cheese under the brand Breznianska mliekareň, local dairy farm, in Coop Jednota and Fresh. Famous ice cream in Lopej also uses milk from this dairy.
Freshly baked bread and buns
Malá rodinná Pekáreň vrchy v obci Sihla pečie v šamotových peciach, ktoré rozpaľujú drevom. Okrem miesenia nepoužívajú žiadne technológie, ich výrobky neobsahujú žiadne umelé prísady, udržiavajú si vlastný kvások a čerstvo dopečené cesnakové podplamenníky či chleba rovno z pece ani nemusia vydržať cestu do auta, lebo tá neodolateľná vôňa vás dostane. Okrem soboty pečú každý deň a v ich regáli vždy nájdete poctivý chlebík. Z predošlého dňa ho kúpite od 15tej, podvečer po 17tej sú dopečené aj čerstvé výrobky.
Family bakery in Sihla uses fireclay ovens to bake, and apart from kneading, they don't use any machinery. Their garlic bread called "podplamenník", or bread straight out of the oven won't last the way to the car because its irresistible smell will get you. Except Saturday, they bake every single day. If you stop by before 3pm the bread on the shelf might be from the previous day and freshly out of oven after 5pm. It can be also bought in Brezno in CBA retail and small family-owned shops Pôbišová.
If you do not have a trip to Sihla, stop by in Lopej just off road 1/66 and you can buy their products from the window of the family bakery. You can tell where it is by the queue of people at the window.
Legendary buns baked according to the original recipe from Muráň can be found in saddle Zbojská in Falťan's pub. The buns have found their way to the hearts of many throughout street food festivals and fairs. Preparing the dough takes an incredible 4 hours. In addition to the classic sweet filling you can opt out to enjoy salty specialties. The most popular filling is blueberries, but how would you like sheep cheese with seasonal bear garlic or pork crackling with plum?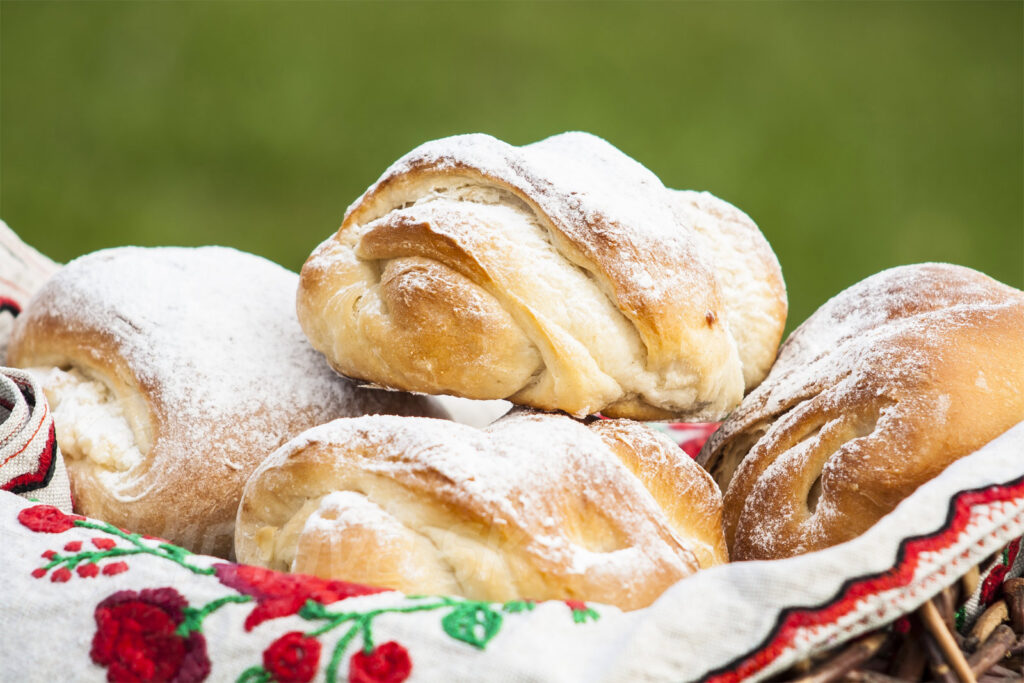 Meat products
If you are planning a barbecue, the best place to get fresh local meat is at the family butcher's shop in Podbrezová. They prepare the meat however you want it in store for you. In addition, they offer ribs, stuffed meat and sausages perfect for grilling without usage of any preservatives ideal for celiacs. You can order these products in advance over the phone, as twice a week they even deliver directly to customers.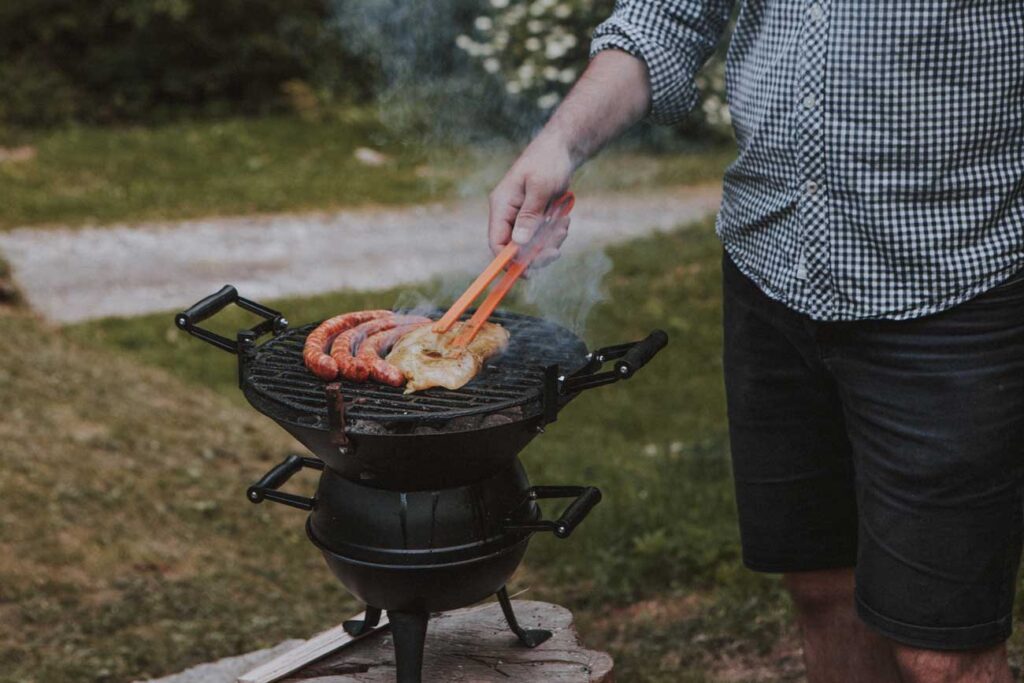 Veggies and Fruits
Farmers from the south of Slovakia travel each week to Brezno to sell their fresh veggies and fruits in a market. You can find them there every day except Sunday (week day until 5pm and Saturday until 12pm). Next to the market is also the best ice cream in town so make sure to pay a visit.
The owner of the grocery store in Valaská takes a trip to the south of Slovakia each Sunday to bring to our mountainous region fresh seasonal fruits and vegetables. Therefore it is best to buy them in the beginning of the week as he can sell out by the end of the week. You may also buy there blueberries from farm Čučoriedkovo, which are grown by a family near Brezno without any chemical spraying and are hand-picked with love. You can even order them over the phone or email and they will deliver them to your door. This project won the founder the title "entrepreneur of the year". Otherwise you can enjoy their blueberries in drinks and cakes at the Green Pub, which is a green oasis in the middle of Brezno.
Slovak spirits
Spirits produced close to Brezno, like SABER Hugán vodka have received quality awards and won silver in the London International Competition last year. It is produced from wheat grown in central Slovakia. Saber Distillery boasts with a portfolio of fruit spirits for gourmets as well as low-tatras pine spirit (alcoholic beverage flavored with juniper berries) and spruce spirit made from spruce trees. You can taste these spirits in Pastierska kolibka, but you can also buy them in some shops, such as Pekárov cisár in Valaská or Fresh stores.
Where to eat in Brezno
If you haven't tried home cooking outside the city, you should head to Koliba pod Orechom in Brezno. Mo-Fri 10.30 – 21.00, Saturdays and Sundays mostly closed for private events.
In the town centre square there are several places that will satisfy you with their quality. A nice change from halušky is the Pizzeria Barbaricum which has a quiet terrace behind the restaurant and offers homemade pasta and delicious pizza.
Alternatively, you can try Elf where they serve great meat dishes, burgers, pork steaks. Lastly, you have Dvojka where you will find a passionate married couple Rafajovci who will be happy to serve you.
For gourmets
If you want fine dining, you'll be taken care of at Tále in Tálska bašta or hotel Partizán ****. They have their own animal farm and they really care about the quality of the products. I recommend that you call reception ahead of time (+421 48/630 88 13) to see if they are not fully booked or private event. Hotel Zerrenpach *** is a more affordable choice. You should definitely taste their regional cakes Drevník and Stromník, for which they have obtained Horehronie's regional certificate.
The Red Deer Hotel in Rohozná collects the finest products from Horehronie and the surrounding area to satisfy demanding customers. The chef himself takes care of guests, recommends meals, and explains where their ingredients come from.
Trip for foodies
Marka from Šumiac can teach you how to cook traditional Horehronie cuisine on her wood stove. Besides cooking classes, she has plenty to talk about from the past, for example, how food for weddings were prepared before catering companies took over, the lifestyle people led or even show you čepce, bonnets worn by married women. Find out more about this HERE.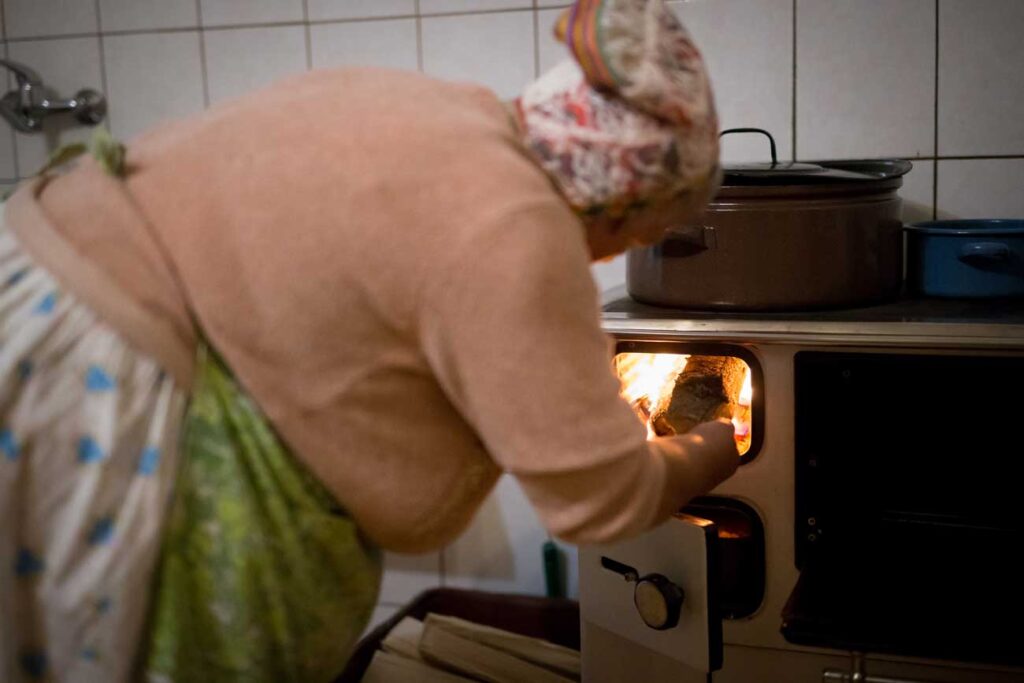 A huge bonus to the gastro experience will be coming soon in the form of a published cookbook of recipes from Horehronie. I am extremely excited about this project, where both known and less known traditional recipes from the region will be presented. Although every village in Horehronie has different morals, different folklore, different traditional folk costume and dialect, our shared love for good food, entertainment, and nature joins us. Bon appetit!
Ivana